On May 25, 2021, the on-site vaccination day began for all the workers of Minera Pampa Camarones and contractor companies that collaborate directly in site.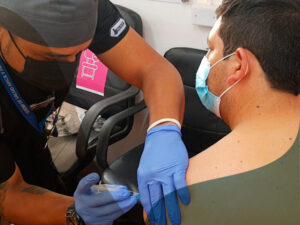 The initiative was carried out jointly with the Seremi de Salud (Health Seremi), Seremi de Minera de Arica y Parinacota (Arica and Parinacota Mining Business Seremi) and Minera Pampa Camarones, with the support of the health service personnel at the vaccination centers set up at the mine and at Clinica Vitali facilities in Arica.
Luis Vergara Pizarro, Human Resources Superintendent of Minera Pampa Camarones, says: "We know that the vaccine against COVID-19 does not stop the risk of contagion, but we want to reduce the effects of the virus on people and thus provide greater safety for all our employees and the neighboring communities".
At the end of the day, almost all the collaborators had been vaccinated, who voluntarily attended the vaccination centers implemented.
At Minera Pampa Camarones we are committed to our own wellbeing and that of all neighboring communities, which is why we will continue to contribute with initiatives that help to reduce the risk of Covid-19 contagion.