We are aware that People are the most important value of our Organization, which is why we maintain a continuous commitment to offer optimal safety and occupational health conditions to all our workers and collaborators, seeking to develop our mining operations with a high professional standard, developing our activities in a socially and environmentally responsible framework.

The new Minera Pampa Camarones SpA has the ZERO ACCIDENT policy, that is to say, not to cause harm to the people, the
environment and our neighboring communities, working day by day to achieve the best practices of the industry. This Policy is communicated to all the members of the Company: Contractors, Suppliers and Collaborators, in order to integrate it into their daily activities. Additionally, it's available to other stakeholders and is periodically reviewed by the Board of Directors, according to our continuous improvement practices.
The success of our project will depend on the success that we have in fulfilling our commitments.
WE ARE LEADERS
We are the leading mining company in the region.
SOLID PRINCIPLES AND VALUES
All our work is based on principles and solid values, integrity, honesty and respect for the environment.
COMMITMENT TO THE ENVIRONMENT
Our philosophy is oriented to the development of initiatives that generate value for society, with a recognized commitment to the community, education, cultural development and the environment.
EXCEPTIONAL TEAM
We are an experienced team, in favor of operational excellence and high performance.
IMPROVE LOCAL TALENT
We promote the professional development on a local level.
OPPORTUNITY FOR PROFESSIONAL GROWTH
We contribute to the training and education of people, where every employee has the opportunity to develop their full potential.
REACH BEYOND
We are a company where you can develop professionally, take on new responsibilities and challenges. Here you can develop different skills and abilities.
TRAVEL + FAMILY LIFE
Being a mining company near the city of Arica, we have decided not to build a dormitory camp, with the objective of giving priority to our workers returning home daily. In this way we take care of and encourage the balance between personal life and work, which benefits the quality of life of our workers and their families.
GOODBYE TO THE PROBLEMS OF HEIGHT
Being located at an altitude of only 863 masl, work on site in Pampa Camarones is much more motivating and gratifying, eliminates a series of annoyances and discomforts typically of high altitudes sites resulting from the effect of the puna, which undoubtedly represents lower health risks and associated difficulties.
COMPETITIVE
We offer remunerations according to the market and we have good benefits for you and your family.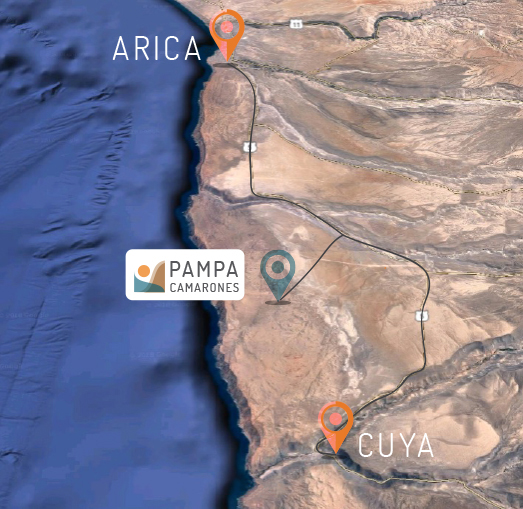 Location
Privileging the quality of life and the family
Pampa Camarones is located in the Camarones commune, in the Atacama Desert, approximately 80 kilometers south of Arica city and only 12 kilometers from the ocean. Its proximity to the cities of Arica and Cuya is a privilege, since it allows workers to return home every day.
---
| TRAYECTO | DISTANCIA | TIEMPO |
| --- | --- | --- |
| Arica-Faena | 90 kms | 1.25 Horas |
| Faena- Cuya | 65 kms | 45 minutos |
Join Us
Job Opportunities
---

---
If you're interested in becoming part of Pampa Camarones, we invite you to complete the following application form, attach your Resume, and we will contact you soon.
If you need to contact us for any other reason, or if you need to ask for specific information of any of the operational areas, write us to [email protected] or complete the contact form.
Somos conscientes que las Personas constituyen el valor más importante y Ia mayor garantía de futuro de nuestra Organización, es por ello que mantenemos un continuo compromiso por ofrecer condiciones óptimas de seguridad y salud laboral a todos nuestros trabajadores y colaboradores,buscando desarrollar nuestras operaciones mineras con un alto estándar profesional, desarrollando nuestras actividades en un marco social y ambientalmente responsable.

La nueva Minera Pampa Camarones SpA tiene como política el CERO ACCIDENTE, es decir, no causar daño a las personas, al medioambiente y a nuestras comunidades vecinas, trabajando día a día por lograr las mejores prácticas de Ia industria.
Esta Política es comunicada a todos los miembros de Ia Empresa, Contratistas, Proveedores y Colaboradores, para integrarla en sus actividades diarias, adicionalmente está a disposición de otras partes interesadas y es revisada periódicamente por el Directorio, de acuerdo a nuestras prácticas de mejoramiento continuo.

El éxito de nuestro proyecto dependerá del éxito que tengamos en el cumplimiento de nuestros compromisos.
SOMOS LIDERES
Somos la empresa minera líder en la región
PRINCIPIOS Y VALORES SÓLIDOS
Todo nuestro quehacer se basa en principios y valores sólidos, integridad, honestidad y respeto por elmedio ambiente.
COMPROMISO CON EL ENTORNO
Nuestra filosofía se orienta al desarrollo de iniciativas que generen valor para la sociedad, con unreconocido compromiso con la comunidad, educación, el desarrollo cultural y el medio ambiente.
EQUIPO EXCEPCIONAL
Somos un equipo experimentado, en pro de la excelencia operacional y de alto desempeño.
POTENCIAR EL TALENTO LOCAL
Promovemos el desarrollo profesional a nivel local.
OPORTUNIDAD DE CRECIMIENTO PROFESIONAL
Contribuimos al entrenamiento y capacitación de las personas, donde cada colaboradortiene la oportunidad de desarrollar su máximo potencial.
LLEGAR MÁS ALLÁ
Somos una empresa donde puedes desarrollarte profesionalmente, asumir nuevas responsabilidades y desafíos. Aquí podrás desarrollar distintas competencias y habilidades.
VIAJES + VIDA FAMILIAR
Al ser una compañía minera cercana a la ciudad de Arica, hemos definido no construir un campamento dormitorio, con el objetivo de privilegiar que nuestros trabajadores regresen diariamente a su hogar. De esta manera cuidamos y fomentamos el equilibrio entre vida personal y trabajo, lo que beneficia la calidad de vida de nuestros trabajadores, y la de sus familias.
ADIÓS A LOS PROBLEMAS DE ALTURA
Al estar ubicada a una altura de sólo 863 msnm, el trabajo en la faena de Pampa Camarones es bastante más motivador y grato, eliminando una serie de molestias y malestares típicos de las faenas en altura consecuentes del efecto de la puna, lo que sin duda representa menos riesgos para la salud y dificultades asociadas.
COMPETITIVOS
Ofrecemos remuneraciones acordes al mercado y contamos con excelentes beneficios para ti y tu familia.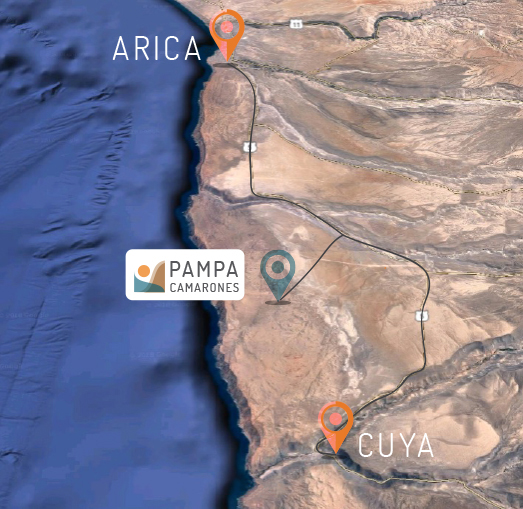 Ubicación
Privilegiando la calidad de vida y la familia
Pampa Camarones está ubicada en la comuna de Camarones, en plena Pampa a aproximadamente 80 kilómetros al sur de Arica y a tan solo 12 kilómetros del mar. Su cercanía a Arica y Cuya constituye un privilegio, ya que permite que los trabajadorespuedan retornar a su hogar todos los días.
Distancia y tiempos de desplazamiento.
---
| TRAYECTO | DISTANCIA | TIEMPO |
| --- | --- | --- |
| Arica-Faena | 90 kms | 1.25 Horas |
| Faena- Cuya | 65 kms | 45 minutos |
Únete
Oportunidades de trabajo
---

---
Si estás interesado en formar parte de Pampa Camarones, te invitamos a que completes el formulario, adjuntes tu CV y nos pondremos en contacto contigo a la brevedad.
Si lo que necesitas es ponerte en contacto por otros motivo o bien necesitas solicitar información específica de alguna de las áreas escríbenos a [email protected] o completa el formulario de contacto.